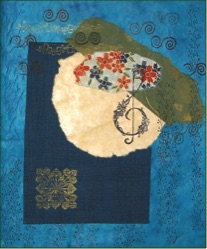 What is Art therapy?
Art/Image making is a language of communication that can express:
• FEELINGS
• EMOTIONS
• IDEAS
Through symbols, pictorial composition, and visual stories, inner dilemmas may be accessed and externalized.  This can provide relief from carrying the burden of unexpressed feelings and thoughts as well as powerful traumatic experiences.  The externalized image becomes part of the therapeutic support system along with the therapist.
Do you or your child??:
• Have a hard time talking about feelings or traumatic experiences?
• Experience strong feelings of anxiety, grief or depression?
• Feel stuck or hopeless?
• Don't like therapy that requires you to sit and talk for an hour?
• Wish you could express yourself, but just can't find the words that fit?
Art Therapy may provide you with healing and change. Using art materials and methods gives your tired or anxious brain a chance to recharge. Therapeutic art making helps you see things differently. You may discover what's important and make new meaning of your experiences, or challenges. The purpose of Art Therapy and counseling is to facilitate healing and to encourage, and empower clients to use their strengths. People think in images, and not in words, so communicating through visual creations can truly provide the experience of,"a picture is worth a thousand words."
Art therapy results in tangible proof of a person's journey allowing them to see:
• Where they have been.
• Changes that have been made.
• Future growth, and goals
• Art therapy does not require art skills!
The only requirement is a willingness to play with images, and get your hands involved with the materials.
So many times people say, "I can't do art"," I don't have any art skills"," I can't draw", or "My second grade teacher laughed at my painting."  Art therapy isn't about creating some finished museum piece.  It is meant to be used to explore, play, release, and contain feelings and provide people with an experience of their own inner creativity.  Creative activity can increase the serotonin level, or feel good chemistry of the brain. The act of creating itself, has a healing component that can be soothing.
Below are some quotes about art therapy from sources around the country, and other resources:
Video: Art Therapy: Be the Change You Want to See - Cathy Malchiodi (This is a very moving video)
- Karla Leopold, an art therapist from California, was intrigued when she noticed that for many of the young v"ictims of Hurricane Katrina, the house had morphed into a triangle. "At first we thought it was a fluke, but we saw it repeatedly in children of all ages," said Ms. Leopold, who with a team of therapists has made nine visits to Renaissance Village here, the largest trailer park for Katrina evacuees, to work with children. "Then we realized the internal schema of these children had changed. They weren't drawing the house as a place of safety, they were drawing the roof. Even the adults participate, drawing churches, front porches, trees and, in one session, a picture of the trailer park with one palatial house and swimming pool in its midst. Many, both adults and children, draw at a level that is years below what is expected at their age, partly as a result of traumatic regression.
By Shaila Dewan New York Times.  Published: September 17, 2007
- A study published in the Journal of Pain and Symptom Management found that art therapy can reduce a broad spectrum of symptoms related to pain and anxiety in cancer patients. In the study done at Northwestern Memorial Hospital, cancer patients reported significant reductions in eight of nine symptoms measured by the Edmonton Symptom Assessment Scale (ESAS) after spending an hour working on art projects of their choice. ScienceDaily (Jan. 2, 2006)
- "Creating art, viewing it, and talking about it provides a way for people to cope with emotional conflicts, increase self-awareness, and express unspoken and often unconscious concerns about their illness."
Yale School of Medicine Patient Care
American Art Therapy Association
Canadian Art Therapy Association