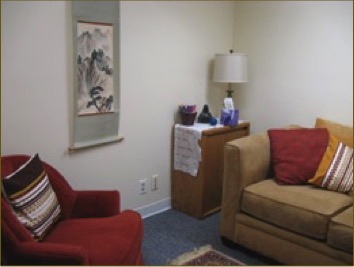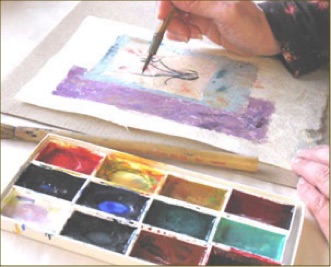 My Approach
I approach healing through multiple methods in addition to traditional talk therapy; each with its own strengths and focus, each with the capacity to nurture and encourage healing of the mind, body, spirit, and soul. Art Therapy, Sandplay, and Play Therapy have been researched and used in a variety of settings, both institutionally, and in private practice.
Art therapy can enhance the well being of clients who find that words are not enough, who don't wish to speak, or are unable to speak. It is a healing-arts approach that brings together the mind and the body, based on the belief and experience that our creative processes can help heal a variety of wounds. It helps people access emotions, express them, and by containing them in a visual format it can help increase self-awareness, self-esteem, and promote wellbeing.

Art therapy uses a wide variety of art materials. Clients are not expected to have artistic skills, but are encouraged to play with, and experience art materials. With the presence of the art therapist clients learn how to use materials if they don't already know how, and they have the opportunity to create images in a supportive, empathetic, non-judgmental environment.  It can be used in both individual and group settings.
What is a typical session like? It...
* Lasts 50-60 minutes; and art materials are provided.
* Begins with a brief conversation about what issues/thoughts brought you into the session.
* Invites you to engage in an art-making activity especially designed to help you uncover
unique solutions to your specific problems.
* Allows time for verbal discussion of your artwork and art experience to increase
self-understanding and to integrate material revealed through art.
* Does NOT require artistic ability, experience,or talent!
Click here for more on Art Therapy.
Regrettably, at this time I am not seeing children, and no longer provide Sandplay or Play Therapy Services.
Sandplay was originally developed by Dora Kalff a Swiss, Jungian Analyst in the 1950s.† As with art therapy, images and symbols are used as part of the process of healing. While there may be some discussion, it is often a non-verbal approach to healing that accesses deeper layers of our selves, and can be profound in its healing capabilities.
Dora Kalff's son Martin describes Sandplay as:
A method of psychotherapy and personal development. This method has three roots, united into
a single unit… Sandplay combines the analytic psychology†of C.G. Jung, the
World Technique of Margaret Lowenfeld and Eastern thought and philosophy.
(D. Kalff, Sandplay, 1966)
Originally designed for use with children, it has developed into a system useful for all ages.
My use of Sandplay in my practice is for clients who again find the use of words unsatisfactory in describing their lives, and are drawn to creating their stories and worlds in the sand. Together we witness the creation of these worlds and the healing process that develops through the depiction of inner and outer stories.
Click here for more on Sandplay.
Play therapy is one of the primary methods I use when working with children individually, and in part during my parent/child attachment enhancement series. Play is the natural method that children use to process their experience. When difficulties arise and they do not have the words, or the developmental level to describe their experience they play. "[Play] integrates our deep psychological, emotional and cognitive capacities. And quite without knowing it, we grow" (Brown, Stuart, MD, 2010).
Click here for more on Play Therapy.